Nowadays, smartwatches and fitness wearables are trending in India. The usage of smartwatches increases rapidly, and most people preferred smartwatches rather than regular watches. In this article, we suggest the best smartwatch under 5000 in india 2021.
Here is the shortlist of the best smartwatch under an affordable budget of 5000.
Amazfit Bip U Smart Watch – Best smartwatch for men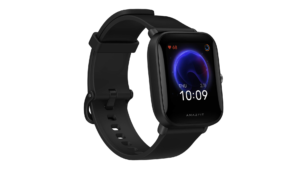 The amazfit bip U smartwatch is one of the best smart under this budget, and it comes with 1.43 inches display and a square Display. It weighs only 31 grams.

This smartwatch has 60 plus exercise modes, including outdoor running, walking, pool swimming, badminton, table tennis, yoga, cricket, etc…

The smart wearable has 5 ATM water resistance, and you can wear this watch underwater swimming.
It has 50 watch faces available to suit your outfit, and you can also. Upload your photos as the watch face.

Amazfit bip U smartwatch is compatible with both android and IOS devices. To connect with mobile, you have to download the mi-fit app.

The smartwatch battery takes 2 hours to charge fully, and the battery long lasts nearly 5-6 days with typical usage. You will get a magnetic pogo pin charging cable.
GOQii Smart Vital Fitness – best smartwatch under 5000 in india 2021

GOQii smart vital fitness smartwatch was launched on 5 august 2020. this smart watch is available on amazon.

The GOQii smartwatch comes with 1.3 inches color display with a full touch screen. The weight of the watch is 180 gms (a little bit heavyweight watch).

It is IP68 Water/Dust resistant. This watch has 18 exercise modes, including running, walking, etc.. it has proper steps and a movement counter algorithm.

This smartwatch measures continuous heartbeat controls body temperature and measures blood oxygen levels.
It also has auto sleep tracking. You can also track all-day activity like steps, distance, calories burned, active time & once again makes it better than any smartwatch.
GOQii Smart Vital has a 230 mAh battery which provides a battery life of up to 7 days, depending on the usage. If all functions are enabled, it will last for up to 3-4 days.

The battery charger has a two-pin magnetic charger- remove the strap and put the core on it to charge.
best smartwatch under 5000 rs is – Noise ColorFit Pro 3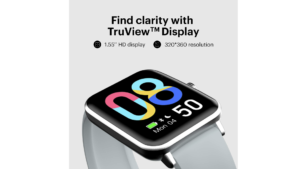 The Noise Colorfit Pro 3 is our next choice in the best budget smartwatches in India. It is an ideal option for fitness freaks; the smartwatch has a 24/7 heart rate, blood oxygen, stress monitor with guided breathing sessions, and more.
The smartwatch is available in 6 different colors like jet black, jet blue, rose red, rose pink, smoke green, and smoke grey.
Noise colorfit pro 3 has a square-shaped dial with a 1.55-inch square TFT display with 320X360 resolution, making it easier to read in the sunlight.
This smartwatch comes with 5 ATM waterproof resistance, ColorFit Pro 3 is not only splash-proof but also dive-proof. So simply dive in and let the watch track your workout.
The noise colorfit pro 3 is compatible with both operating systems Android and IOS. Get all your data with Noise fit app.
This best budget smartwatch comes with a polycarbonate body and removable silicone straps.
The colorfit pro 3 has 210 mAH battery capacity and it takes 2 hours to take full charge. It has a battery life of 10 days in a single charge in typical usage.
The smartwatch has 14+ sports modes like running, walking, yoga, workout, cricket, etc.
ColorFit Pro 3 makes the right connections and keeps you in the loop with every message, call and social media notification when you don't have your phone on you.
Amazfit Bip U Pro – best budget smart watch in India
The amazefit bop u pro smartwatch has 1.43 inches HD display at 320*302 pixels resolution. the display on this smart watchis quite good and you can view it under direct sunlight at peak brightness.
This smartwatch features an inbuilt GPS, so you don't have to use your phone to track your running distance.
Amazefit bip u pro smartwatch comes with built-in Alexa, You can talk to Amazon Alexa on your smartwatch.
This smartwatch body is made up of a polycarbonate body and removable silicone straps which look premium in Design.
The charging can be done easily with the help of a magnetic charging dock. To charge the smartwatch to full, it takes 2 hours which gives the battery life of 9 days for typical usage and 5 days Battery life for heavy usage.
The smartwatch compatatible with both operating systems android and ios. Get all your data with Zepp app.
The smartwatch is packed with all important features like a continuous heart rate monitor, sleep tracking, notification alert, and support for most the outdoor exercises.
Now you can change watch faces according to your mood and outfit. 50 watch faces are available and also you can upload your own photos to create your own watch face.
Amazfit Bip u pro comes with Bluetooth 5.0 that connects to the smartphone quickly. The presence of Bluetooth 5.0 in a mid-budget affordable smartwatch makes Amazfit bip u pro one of the Best Smartwatches Under 5000.
realme Watch S – best budget smartwatch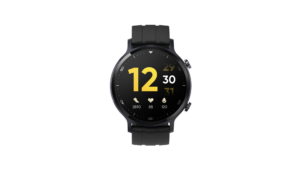 The next best smartwatch under 5000 rupee India is Realme watch S. The smartwatch is available in two colours: black and silver variants.

This Realme smartwatch body is made up of a fancier aluminium alloy which looks elegant in Design.

Realme watch s has 1.3 inches TFT LCD round display with auto adjustable brightness and 360*360 pixels resolution with up to 600 nits peak brightness.

The Display is protected by curved Corning Gorilla Glass 3rd generation tempered glass, which prevents the smartwatch from scratches and breaking.

Convenient magnetic charging base -The best thing about this smartwatch is its long-lasting battery. A single charge of the smartwatch battery lasts long about 14 days in regular use.
The Realme watch s compatible with both operating systems android and ios. Get all your data with the Realme link app.
Realme watch s has a connectivity Android 5.0 and Bluetooth 5.0 .
The realme Watch S is inherently waterproof, with an IP68 rating and 1.5m water resistance, so you don't have to worry about everyday use.
The realme Smart Watch S supports the tracking of 16 sports modes, including outdoor run, outdoor cycle, yoga, badminton, walk etc.
This smartwatch has 100+ stylish watch faces, designers created trendy dials for the Watch S. Over 100 cool dials will be made that you can use for 3 months without repeating.
In this best budget smartwatch you can play and pause music, switch songs on your watch without taking out your phone. With the watch, you can also take pictures of your phone remotely.
which is the best budget smartwatch in India 2021?
1.Amazfit Bip U Smart Watch
2.GOQii Smart Vital Fitness
3.Noise ColorFit Pro 3 
4.Amazfit Bip U Pro
5.realme Watch S
Best smartwatch under 5000 in india 2021?
1.Amazfit Bip U Smart Watch
2.GOQii Smart Vital Fitness
3.Noise ColorFit Pro 3 
4.Amazfit Bip U Pro
5.realme Watch S
You can also read